Until the End of the World director's cut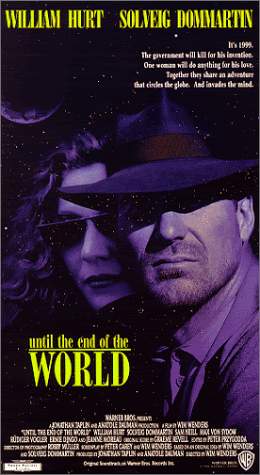 Wim Wenders'
Until the End of the World
is the kind of movie I'm just drawn to. I can remember showing it to friends and them saying it was too boring or too confusing. I never completely disagreed with this, it
is
a little stuffy and disjointed in places, but that never made it any less compelling for me. I guess it's just one those flawed films that still manages be rewarding on some emotional/visceral level. I haven't seen it years but I watched it many times on video before then. If you haven't seen it you should. At the very least you should watch the trailer at the end of this post and decide if you would like to.
Anyway I just found out that it was supposed to be an almost
5 hour trilogy
instead of the single 2 1/2 hour film I'm familiar with (the home video cut). How could I have never heard
anything
about this before? I guess this is what happens when you fall in love with a movie and then forget about it before the age of google. After spending 14 years and and gobs of money (for him anyway) filming it, Wenders was forced to chop it up for release and the original cut has only been seen at a few film festivals until now. Apparently it's been released on dvd in Italy as a 3 disc set with a combined running time of 280 minutes and some really interesting sounding extras. There are "legal considerations" (???) that have kept it from receiving a wide release.
I only know any of this because a divx rip of the new set was just posted to a torrent site I frequent. Yeah yeah... downloading movies is bad. I
want
to
buy
this set... so when is it coming out in my country?
The movie isn't even available on disc at all in America
. Hopefully that's because whoever holds the reins is waiting to do it right.
Seriously, if this set isn't released in this country soon I'm gonna take a hostage. hell.
Until the End of the World - theatrical trailer
(ugly asf file but it's all I could find)
-Wim Wenders official site-
-UTEOTW Fansite-