Criterion Collection Holiday 2004 Gift Set... DRRROOOOLL....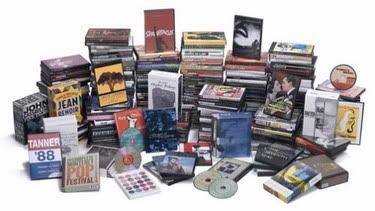 So
Amazon
is selling a package of
every Criterion dvd released ever so far
for five thousand dollars (except the
out of print titles
, of course). 282 of the finest films ever made (blah blah blah) and a good reason to never leave the house again. Even though the $4999.00 is marked down from the "list price" of 7500.00, it still seems high. You could probably spend less just buying them all off
ebay
or online stores. After all, it seems like the only people who really sell Criterion dvds for list price anymore are brick and mortars.
Deep Discount DVD
has what basically amounts to a "half off criterions" sale every few months. I'm guessing the main goal of an extravagant offering like this is just to draw attention to Criterion in Amazon shoppers' minds this holiday season. This is only for rich people/schools/libraries/etc.
Still, it sure would be nice to get that box in the mail.